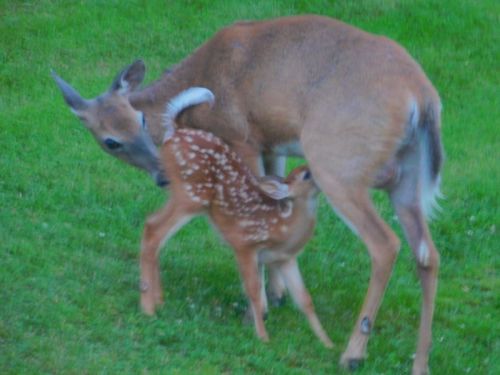 "Rites of Spring" - Marge Ahlin, MBCC Trustee and her husband, snapped these Downeast residents and their progeny (doe and nursing fawn) on their lawn in Machias.
Summertime
July 6, 2017
"Summertime and the livin' is easy..." so begins George Gerswhin's beautiful, haunting "Summertime" from Porgy and Bess. Summertime arrived in Downeast right on schedule June 21 and a beautiful day it was. However, livin' in Machias is anything but slow and easy this time of year. Trucks moving boats and lobster traps from land to sea are on the move, Hannaford's parking lot is filled with out of state plates, road crews are repairing and tarring roads, and construction crews can be seen tidying up old man winter's deviltry.
Your Machias Bay Concert Board has also been busy.. While we are very, very excited by our 2017 concert series line-up, many other nitty-gritty details have to be addressed. Everything from who makes the punch for the receptions to publicity.
When you peruse your season's program you will notice we are accepting donations in lieu of a ticket fee. As expressed before, it is our desire to grow our audiences and encourage some folks to attend who previously might have found the cost prohibitive.
Our intentions are pure but our costs are real.
The artists's compensation is a given. But did you know the cost of moving the piano? A special crew comes from Bangor to move it into place and then move it again after the performance. Cost? $1800 a trip. Yes, your contributions are deeply appreciated.
We are only a few weeks away from opening night. Tuesday, July 11, 7:00 PM we present Gregory Biss, piano; Trond Saeverud, violin; Anna Maria Baeza, clarinet; and Joachim Woitun,cello. See you there!