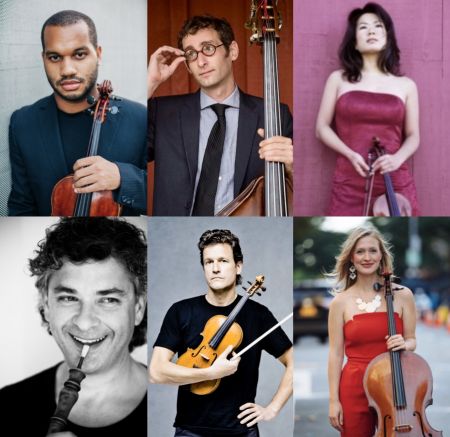 A little light Music - Nuttall, Sohn, Casimir, Hlusko, Balliet, Ruiz
Violin, Viola, Cello, Double Bass, Oboe
A LITTLE LIGHT MUSIC
MOZART Eine kleine Nachtmusik, Serenade in G Major, K. 525 - I. Allegro
MOZART Oboe Quartet in F Major, K.370
DVORÁK Nocturne in B Major, Op. 40
JOSEF STRAUSS Mein Lebenslauf ist Lieb' Und Lust (The Course of my Life is Love and Laughter)
ENNIO MORRICONE Gabriel's Oboe
MOZART Eine kleine Nachtmusik, Serenade in G Major, K. 525 – IV. Rondo: Allegro
The Musicians:
Geoff Nuttall (violin), Livia Sohn (violin), Michael Casimir (viola), Arlen Hlusko (cello), Doug Balliett (double bass), Gonzalo Ruiz (oboe)
GEOFF NUTTALL (violin)
Hailed by the New York Times as "intensely dynamic" with "stunning technique and volatility," violinist Geoff Nuttall began playing the violin at the age of eight after moving to London, Ontario from College Station, Texas. He spent most of his musical studies under the tutelage of Lorand Fenyves at The Banff Centre, the University of Western Ontario, and the University of Toronto, where he received his bachelor of arts.
In 1989, Mr. Nuttall co-founded the St. Lawrence String Quartet. As first violinist of this world-renowned foursome, he has performed well over 1,500 concerts throughout North and South America, Europe, Australia, and Asia. Currently under an exclusive contract with EMI Classics, they received two Grammy nominations for their latest release Yiddishbbuk, a collection of works by the Argentinean-American composer Osvaldo Golijov. Their premiere recording of Robert Schumann Quartets won a Juno Award, granted by the Canadian Academy for Arts and Sciences for Best Classical Album, as well as the coveted German critic's award Preis der Deutschen Schallplattenkritik.
Since winning the Banff International String Quartet Competition and the Young Concert Artist Auditions in the early 90s, the St. Lawrence String Quartet has become a regular at some of North America's most esteemed music festivals, including Mostly Mozart, Ottawa Chamber Music Festival, Bay Chamber Concerts, and Spoleto USA, where they will be celebrating ten years as quartet-in-residence this summer. Their busy touring schedule has seen them in such venues as Carnegie Hall, Lincoln Center, Metropolitan Museum, Kennedy Center, London's Wigmore Hall, Royal Concertgebouw Hall in Amsterdam, Theatre de Ville Paris, Tokyo's Suntory Hall, and the White House for President Clinton and guests.
With the St. Lawrence String Quartet, Mr. Nuttall served as graduate ensemble-in-residence at the Juilliard School, Yale University, and Hartt School of Music, acting as teaching assistants to the Juilliard, Tokyo, and Emerson String Quartets, respectively. He is now on faculty at Stanford University, where the St. Lawrence String Quartet has been ensemble-in-residence since 1999, and makes his home in San Francisco with his wife, violinist Livia Sohn.
LIVIA SOHN (violin)
Hailed by Opus Magazine as "a stunning musician", violinist LIVIA SOHN performs widely on the international stage as concerto soloist, recitalist, and festival guest in Europe, North America, South America, Asia, Africa, and New Zealand. The Strad Magazine says "Livia Sohn possesses a remarkably lithe and transparent tone of exceptional purity. [Her] virtually blemishless accounts.are nothing short of remarkable. Even when under the most fearsome technical pressure at high velocity, every note rings true with pinpoint accuracy."
Livia has been a guest soloist in North America with the symphony orchestras of Pittsburgh, Cincinnati, Seattle, Milwaukee, Edmonton, Rochester, Austin, Phoenix, San Antonio, Oregon, Dayton, Winston-Salem, Hartford, Cheyenne, Green Bay, Boca Raton, Louisville, I Musici de Montreal, Aspen Festival Orchestra, New York Chamber Symphony, Boston Pops, and Brooklyn Philharmonic, among others. She has performed with many eminent conductors, including Yehudi Menuhin, Jesus Lopez-Cobos, James DePreist, Gerard Schwarz, Myung-Whun Chung, William Eddins, Grant Llewellyn, Lukas Foss, Jane Glover, Junichi Hirokami, Murry Sidlin, and Jorge Mester.
Internationally, she has performed as soloist with the Budapest Philharmonic, Cologne Philharmonic, Iceland Symphony Orchestra, Mexico City Philharmonic Orchestra, Orchestra del Teatro Marrucino di Chieti in Italy, Auckland Philharmonia Orchestra, Czech National Symphony Orchestra, Limburgs Sinfonie Orkest in Holland, The City of London Sinfonia, Asia Philharmonic Orchestra, Korea's Seoul and Pusan Philharmonics, and the Wuhan Philharmonic in China. She performed a multi-city tour with South Africa's National Symphony and KwaZulu-Natal Philharmonic Orchestras and has performed solo recitals in Spain, Mexico, Cyprus, Israel, and Japan.
An avid chamber musician, Livia has been a guest artist at festivals such as the Kuhmo Chamber Music Festival in Finland, Cartagena International Music Festival in Colombia, Spoleto Festival USA, Aspen Music Festival, Caramoor International Music Festival, Edmonton Chamber Music Society, Newport Music Festival, Bay Chamber Concerts, Maverick Concerts, Brevard Festival, Chamber Music Society of Sonoma, Sewanee Summer Music Festival, Pender Harbour Music Festival, Prince Albert Music Festival in Hawaii, Festival of the Sound in Canada, and Festival de San Miguel de Allende in Mexico.
MICHAEL CASIMIR (viola)
Michael performs in the viola section of the St. Louis Symphony Orchestra, which appointed his seat in 2019. In 2017-2018, Michael guest performed as Principal and Co-Principal Violist of the London Philharmonic Orchestra. He was awarded second place in the 2015 Sphinx Competition, and was winner of the grand prize at the Hudson Valley String Competition in 2013.
Michael received his undergraduate degree from The Juilliard School as a student of Heidi Castleman and Misha Amory, and his post-baccalaureate degree from the Curtis Institute of Music under the tutelage of Roberto Díaz, Hsin-Yun Huang, and Ed Gazouleas. While studying at Curtis, Michael performed regularly with the New York Philharmonic, The Philadelphia Orchestra, and the Orpheus Chamber Orchestra.
An advocate of developing opportunities for young urban musicians, Michael has taught high school students in his hometown of Philadelphia, and currently teaches String Ensemble at Normandy High School in St. Louis. He was recently appointed to the position of Orchestra Director at Lindenwood University.
ARLEN HLUSKO (cello)
Internationally acclaimed Canadian cellist ARLEN HLUSKO is a dynamic, versatile young artist who has performed extensively as soloist and chamber musician across North America, Asia, and Europe. Newly appointed cellist of the Bang on a Can All-Stars, Arlen is also a laureate of numerous competitions, Grammy-award winner for her collaboration with The Crossing, and recent alumna of the Curtis Institute of Music and Carnegie Hall's Ensemble Connect.
In addition to the All-Stars, Arlen regularly performs with several ensembles based on the East Coast, including Dolce Suono Ensemble and Frisson. She has been a featured performer with the Los Angeles Philharmonic, BBC Concert Orchestra, and the National Arts Centre Orchestra, among others. Arlen has also been on the roster of preeminent summer festivals including Music from Angel Fire, Tippet Rise, Spoleto USA, and Bay Chamber Concerts. As a teacher, she has served on faculty of Curtis Summerfest, New York Philharmonic and Philadelphia Orchestra Teaching Artists, and given masterclasses in USA, Canada, France, and Germany. Committed to using her music to connect with and serve her community, Arlen founded her own interactive chamber music concert series, Philadelphia Performances for Autism, and is involved with several communities in Philadelphia & NYC, including Carnegie Hall's "Musical Connections" at Sing Sing Correctional Facility.
DOUG BALLIETT (double bass)
New York City-based Doug Balliett is a composer, instrumentalist, and poet with a constant stream of commissions, a weekly show on New York Public Radio, and nearly 200 performances per year.
Raised in central Massachusetts, Balliett graduated from Harvard with honors, in 2007, and from Juilliard, in 2012, with a master's in Historical Performance. He studied composition with John Harbison, Elliot Gyger, and Philip Lasser. Primarily a composer of vocal music, Balliett has written for Grammy winners Estelí Gomez and Dashon Burton, members of the Trinity Wall Street Choir, and Charlotte Mundy, Davone Tines, and Ariadne Greif. Recent projects include the evening-length A Gnostic Passion, written with his twin brother, Brad, and commissioned by Cantori New York. He has held composer in residence positions with the Lucerne Festival Academy, the Chelsea Music Festival, New Vintage Baroque, the Millennials, and the Colonials. His work has been performed at Carnegie Hall, Juilliard, the Stone, SubCulture, Le Poisson Rouge, Galapagos, ShapeshifterLab, and Spectrum.
Trained as a classical double bass player by Todd Seeber during his time at Harvard, Balliett maintains an active career as a performer. He has performed as principal or solo double bassist with Ensemble Modern, the San Antonio Symphony, Alarm Will Sound, and many other ensembles. He has collaborated with musicians from all walks, ranging from Baroque opera at William Christie's French estate, to tours with pop band Pink Martini, to appearances with MacArthur fellow Steve Coleman at the Newport Jazz Festival. Deeply committed to period instrument performance, Balliett is also principal bassist with the Trinity Wall Street Baroque Orchestra, the Holy Trinity Lutheran Bach Orchestra, 17th-century string band Acronym, and has appeared as principal bass of Les Arts Florissants, Boston Baroque, the Handel and Haydn Society, and the Washington Cathedral. He performs regularly on the viola da gamba and violone.
GONZALO RUIZ (oboe)
Baroque oboist Gonzalo Ruiz, born in La Plata, Argentina, has appeared as principal oboist and concerto soloist with most of the leading period-instrument groups in America and has performed widely in the U.S. and Europe with conductors including Christopher Hogwood, Nicholas McGegan, Jordi Savall, Gustav Leonhardt, Reinhard Goebbel, Andrew Manze, and Mark Minkowski. He has been featured on numerous recordings of solo, chamber, and orchestral repertoire and has acted as principal oboist of the Buenos Aires Philharmonic and the New Century Chamber Orchestras. He was a prizewinner at the Bruges Early Music Competition in Belgium.
Ruiz is an active chamber musician. He has made several reconstructions and arrangements, notably from works by Bach and Rameau. He is an expert in historical reed making techniques, with more than two dozen of his pieces on permanent display in the Metropolitan Museum of Art. He is also an active contemporary music performer; he received the 2000 ASCAP Award for Adventurous Programming. Ruiz is a member of the oboe faculty at Oberlin Conservatory's Baroque Performance Institute and the University of North Texas. He was formerly a faculty member at the Longy School in Cambridge, Mass. He has taught master classes at Indiana University. Ruiz studied at the San Francisco Conservatory. His teachers include Marc Lifschey and James Caldwell. He has been a Juilliard faculty member since 2009.